Team Durango® ambassador Caleb Smidt became the 2022 Tie-Down Roping Champion at The American Rodeo presented by Durango® Boots. Smidt's $100,000 prize was awarded during Championship Sunday, March 6 at AT&T Stadium in Arlington, Texas.
Smidt clocked 7.34 seconds with his horse Pockets on his first calf placing 2nd and 6.87 seconds on his second calf, the fastest time of the rodeo. When interviewed, Smidt gave all of the glory to God and stated he's glad his dad gets to watch him run every calf from Heaven.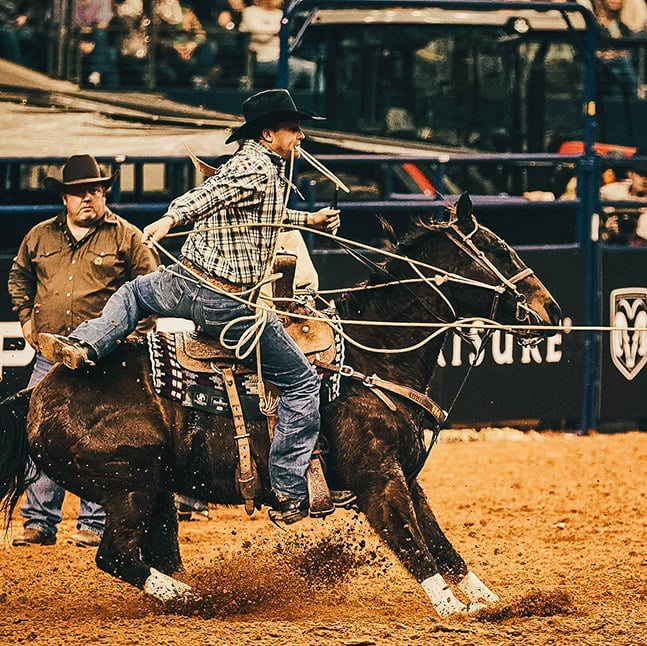 Team Durango®
Caleb Smidt | Tie-Down Roping Champion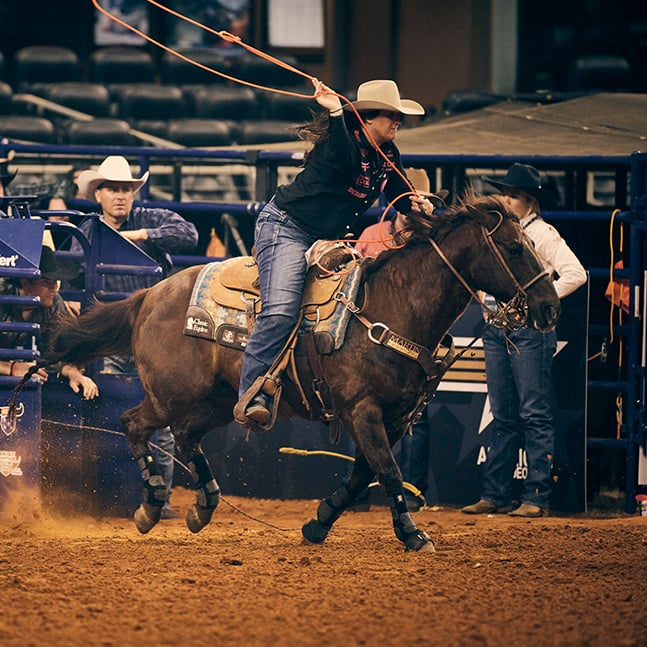 Team Durango®
Kelsie Domer | Professional Breakaway Roper
Other Team Durango® ambassadors also had impressive performances at the event. Current world champion Jordon Briggs landed 2nd place and a $25,000 prize in the barrel racing competition with her horse Rollo on her first trip to AT&T Stadium. Kelsie Domer finished second with a $25,000 prize for her breakaway roping win with her horse Little Man. Riley Webb rounded out the Team Durango® winner list taking home $10,000 after competing against some of tie down roping's most decorated athletes.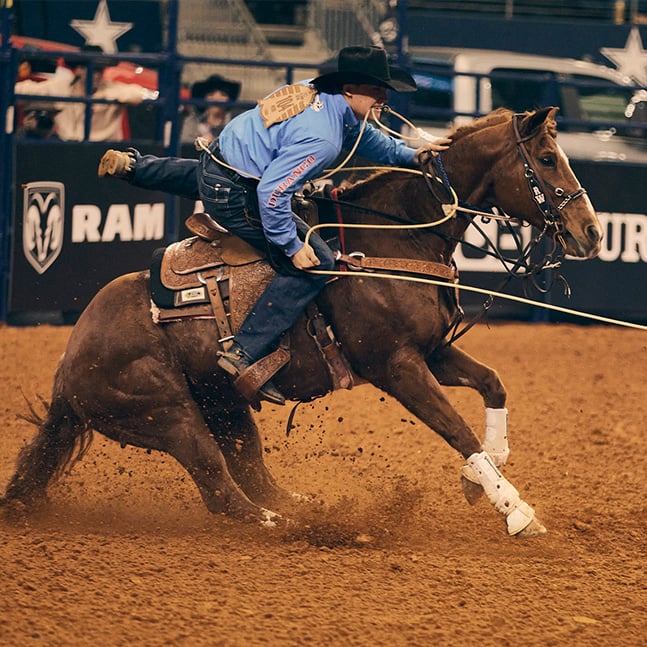 Team Durango®
Riley Webb | Professional Tie-Down Roper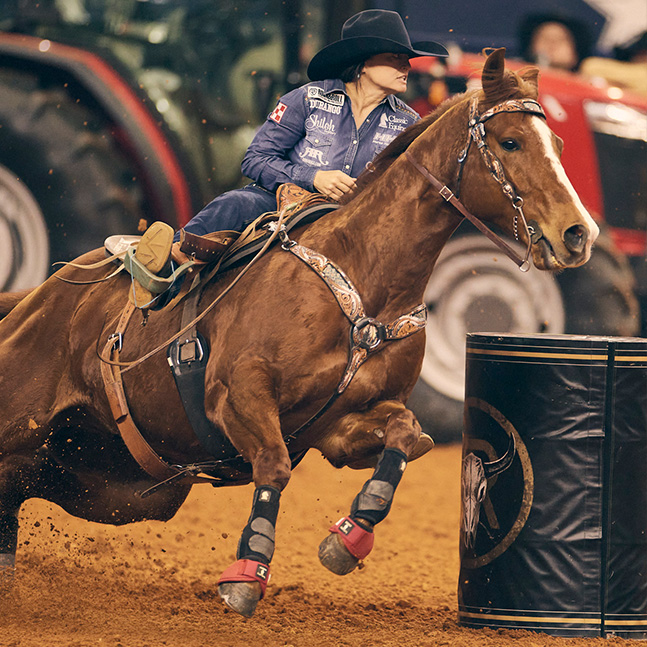 Team Durango®
Jordon Briggs | Professional Barrel Racer
Tie down roper Shane Hanchey and steer wrestler Jacob Talley also competed at The American Rodeo, both going out in the long round while Garrett Yerigan, PRCA Announcer of the Year, did an outstanding job representing the team as The American Rodeo announcer.
"The Durango® family could not be prouder of the Team Durango® athletes who competed in this prestigious western event," said Erin DeLong, marketing manager. "We congratulate Caleb on his second championship win at The American Rodeo and applaud the other Durango® sponsored athletes who also showcased outstanding performances in the arena."
Durango Boots® was the official sponsor of the legendary western sports event. The rodeo featured competitions in eight disciplines including bareback, saddle bronc, barrel racing, breakaway roping, tie-down roping, team roping, steer wrestling and bull riding.
In addition to cash prizes, each 2022 American Rodeo champion received custom-made premium ostrich full-grain leather Durango® Boots featuring the American Rodeo logo embroidered on the shaft, and the words "2022 Champion" embossed on the cow leather lining and genuine leather outsole.
The Team Durango® roster of western athletes includes Luke Brown, Paul Eaves, Lisa Lockhart, Shane Hanchey, Ty Erickson, Orin Larsen, Kelsie Domer, Riley Webb, Stevi Hillman, Jacob Talley, Zeke Thurston, Garrett Yerigan, Jordan Briggs, Erich Rogers, and Caleb Smidt.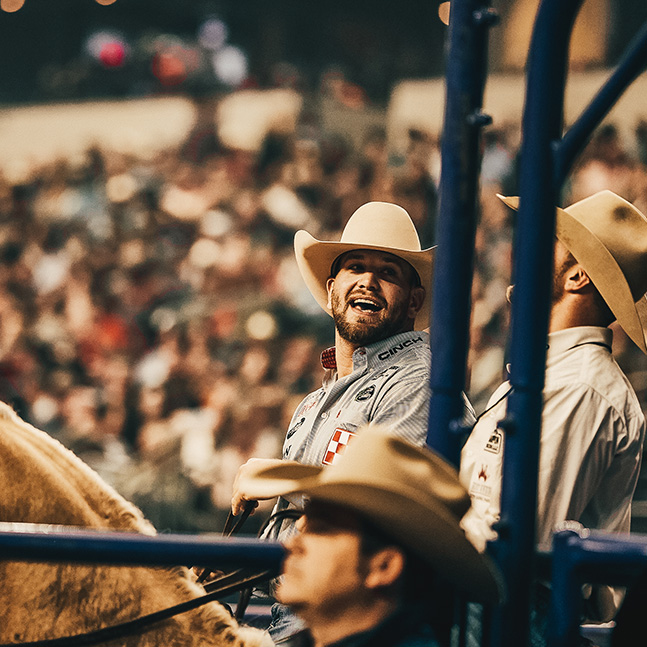 Team Durango®
Jacob Talley | Professional Steer Wrestler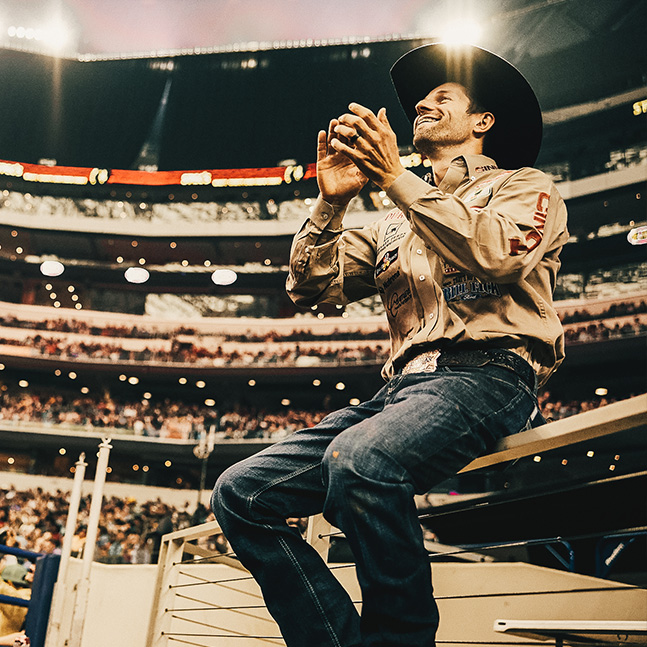 Team Durango®
Shane Hanchey | Professional Tie-Down Roper