LEATHER OR RUBBER – WHICH SOLE IS BEST FOR YOU?

It's important to consider the sole material of a western boot when looking to purchase, because you'll want something that will be comfortable and perform exceptionally for your specific needs. Both leather and rubber soles have their own respective benefits and intended purposes, so understanding these unique characteristics is going to go a long way in helping to finding the best boot for you.

What all will you be using your boots for? How long do you anticipate wearing your boots each day? What types of weather/conditions will you be wearing them in? What is the environment/terrain that you will be wearing them in? Do you plan on resoling your boots or upgrading later on?

As you consider your answers to these questions, this will prove to be helpful in the process of determining whether a leather or rubber sole is best for you.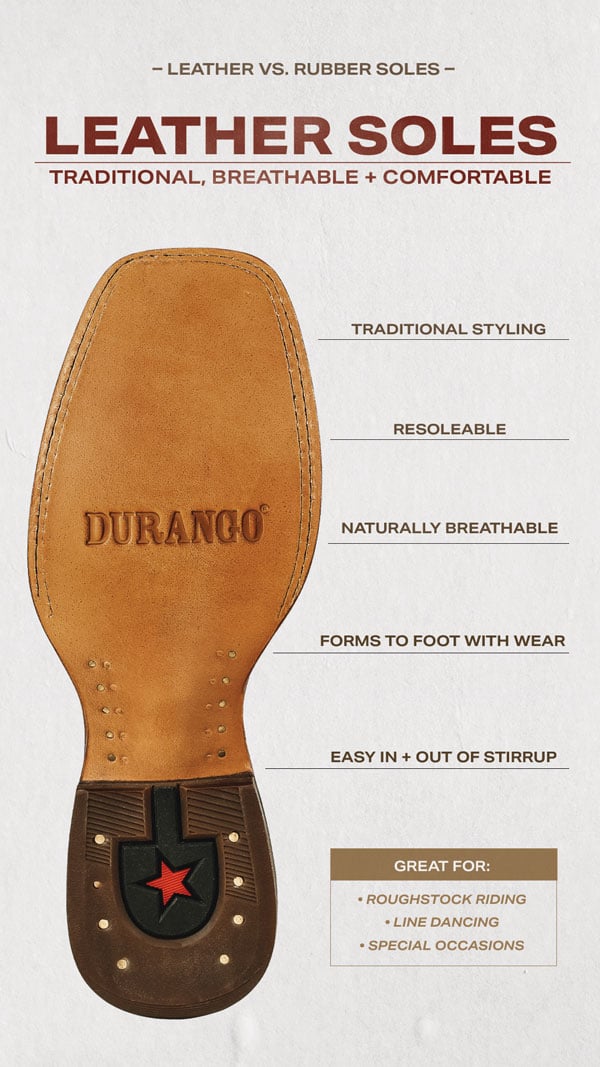 Leather vs. Rubber Soles
Leather Soles | Traditional, Breathable + Comfortable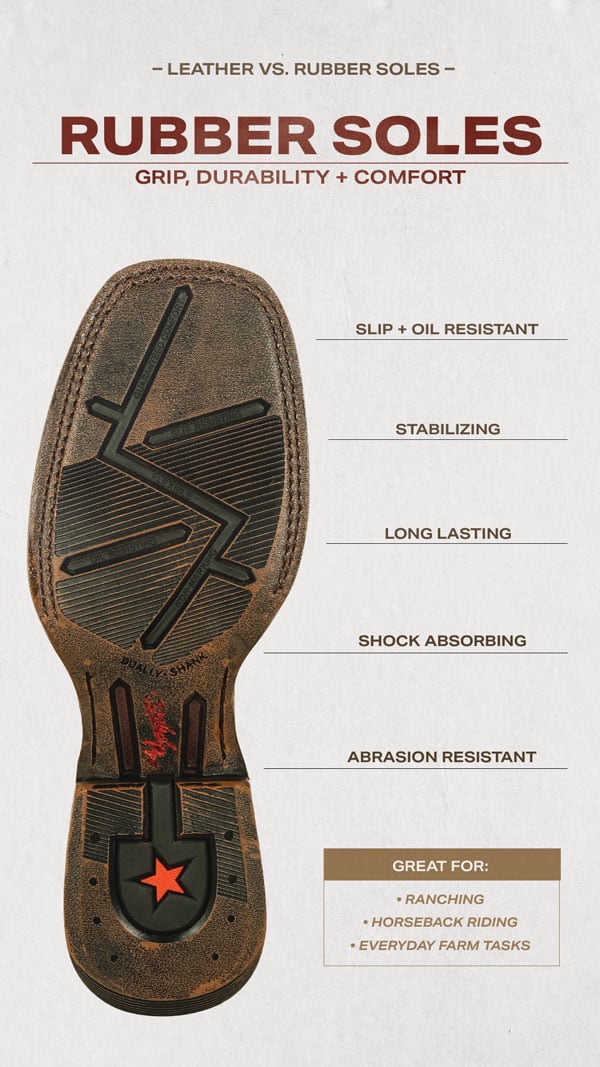 Leather vs. Rubber Soles
Rubber Soles | Grip, Durability + Comfort
WHAT ARE THE BENEFITS OF A LEATHER SOLE?

Purpose: Roughstock Riding, Line Dancing, Special Occasions

Benefits: Resoleable, Breathable, Form-Fitting, Easy In/Out Of Stirrup

Key Characteristics: Traditional Styling, Premium Materials

Originally born out of necessity and resourcefulness, leather sole western boots are now arguably the pinnacle of western tradition and styling. Just as they have for decades, leather soles continue to be preferred by cowboys and cowgirls alike for their remarkable, form-fitting comfort and breathability. Trusted for their performance in the saddle and revered for their undeniably classic style – leather sole boots are the quintessential go-to western boots.

Featured Collections
→ Arena Pro™
→ Premium Exotics™
---
WHAT ARE THE BENEFITS OF A RUBBER SOLE?

Purpose: Ranching, Horseback Riding, Everyday Farm Tasks

Benefits: Slip + Oil-Resistant, Long-Lasting, Stabilizing, Shock-Absorbing, Abrasion-Resistant

Key Characteristics: Enhanced Grip/Traction, Rugged Durability

Built for rugged durability and ready to tackle any jobsite, rubber sole western boots are a widely popular option. Designed with intention and trusted for safety to ensure all-day comfort with enhanced performance, whether you're in the saddle or out on the farm. While rubber sole western boots don't have the extensive history of their leather sole counterparts, they certainly don't lack in style and popularity.

Featured Collections
→ Rebel™
→ Rebel Pro™
---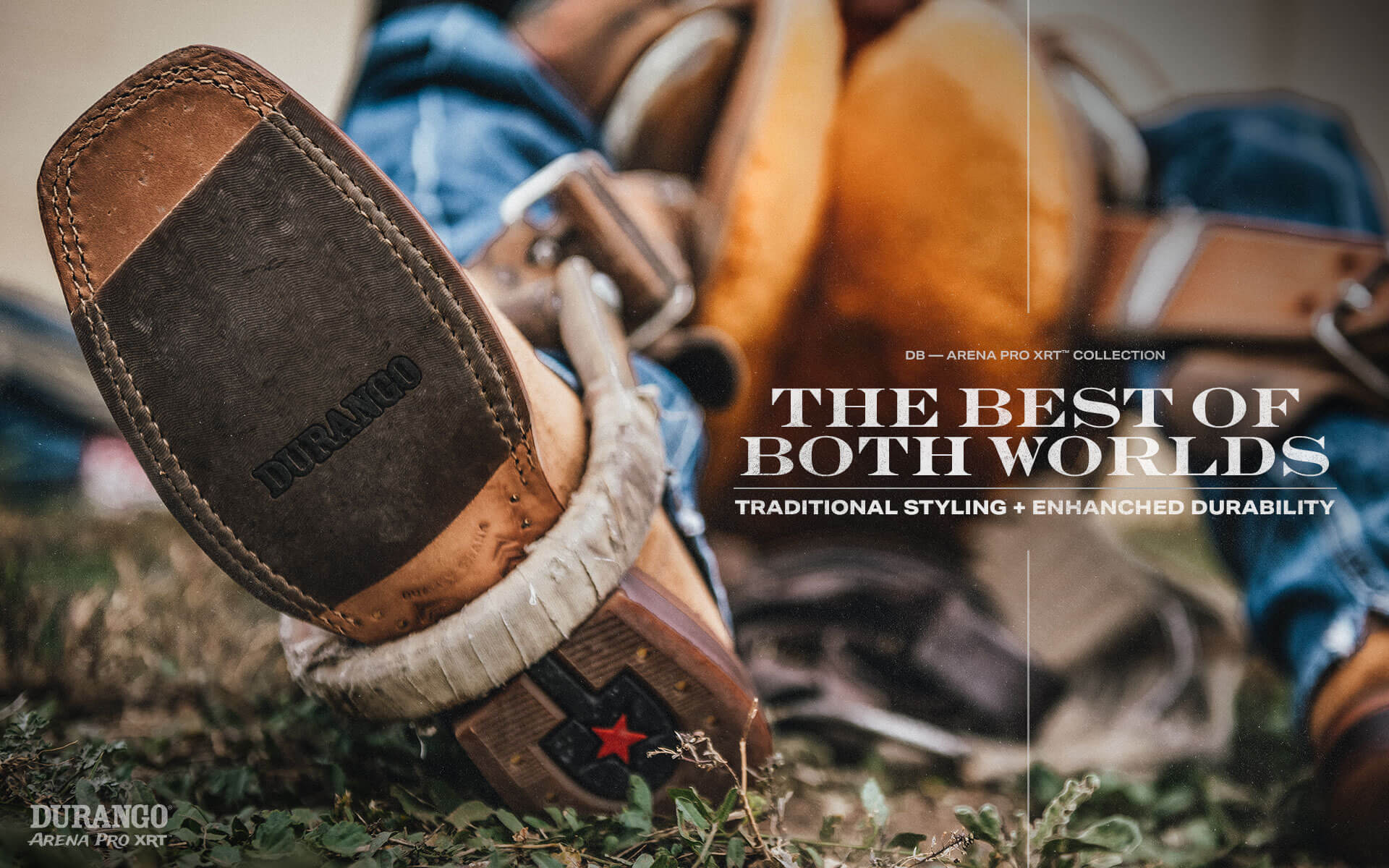 Durango® Arena Pro XRT™
Hand nailed, genuine leather outsole with injected rubber for durability and traction.
THE BEST OF BOTH WORLDS

FEATURED COLLECTION
→ ARENA PRO XRT™

Purpose: Rough Stock Riding, Horseback Riding, Ranching, Everyday Farm Tasks, Special Occassions

Benefits: Resoleable, Durability, Long-Lasting, Enhanced Grip/Traction

Key Characteristics: Traditional Styling, Performance Ready

Still not sure which sole is best for you? Maybe you can see the benefits of both, but don't want to purchase two different pairs of boots. Look no further than our Arena Pro XRT™ line of boots – a premium, high-performance collection featuring the traditional styling of a leather sole profile and the injected rubber sole section gives you added traction/grip for when you need it most. We're proud to build upon our storied western heritage and continue our industry-leading innovations by bringing together some of the top benefits of each sole type – to ensure you can be at your absolute best, day in and day out.